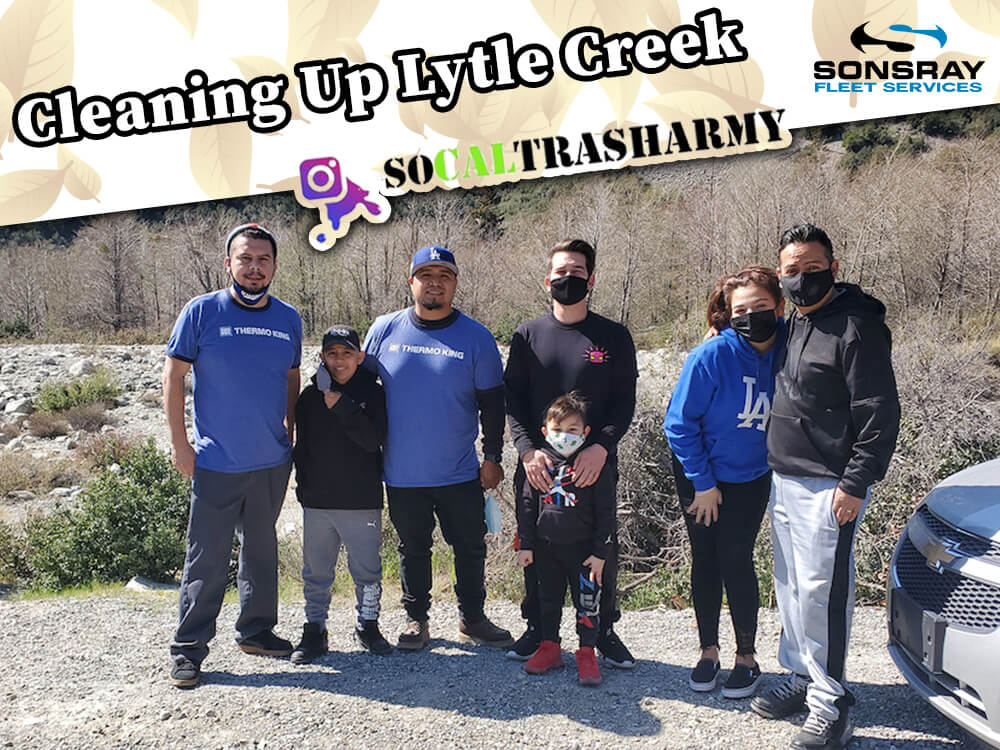 Sonsray Fleet Services & Clean Up The Creek
Nestled in the San Gabriel Mountains, within San Bernardino county, about 10 miles from our Fontana locations lies Lytle Creek— a popular recreation destination for many generations of local residents.  It's a nice quiet place to get away from city life and take family up there to have a bbq, enjoy some hiking and make good memories.
Just like any national forest or recreational area, there are vandals who want to destroy our mother nature.  And, yes, even Lytle Creek is a victim of that.  This is why Gus Fermin, Parts Manager, Sonsray Fleet Services-Fontana, organized a volunteer group of Fontana parts counter associates to clean up Lytle Creek.  Gus was joined by Franklin Trujillo, Luis Garcia, and Raul Diaz.  Accompanied by their families as well, they joined an organization called, "Clean Up The Creek".   Their purpose is to remove trash left behind by hikers and removal of graffiti which seems to be an ongoing battle.
By the way, you should know that cleaning up a creek has its special considerations with regards to everyone's safety including that of wildlife.  It's very different from a beach clean-up or a neighborhood cleanup.  When cleaning a creek, you have to be mindful you're in a wildlife habitat.  The riparian corridor is full of thick brush and overgrown vegetation that oftentimes is unfriendly such as poison oak and prickly thistle. A creek environment can be challenging to navigate. Overhanging branches, slippery surfaces, poison oak, thorny plants and ticks are just a few of the hazards along a creek's riparian corridor.  So for the SFS Fontana Parts Team, they had to think safety first.  Also, cleaning up a creek is more physically challenging than cleaning a beach.  There are areas with rock wash and small river crossings, yes people get wet.
Freshwater habitats can expose you to ticks and insects.  Sure insect repellant will help but it was important for the entire team to ensure they wore closed-toe shoes, pants, long sleeve shirts and dark colored clothing since ticks are attracted to light colored clothing before they attach to the skin.
We salute the SFS Fontana Parts Team for their Force for Good efforts to ensure Lytle Creek remains green and healthy.  Thank you for helping keep our mother earth beautiful.  Lytle Creek is also home to Bonita Falls—a 100 foot waterfall.  For SoCal residents, this is a gem that you'd love to check out in the spring time and a perfect hike for people who are not used to hiking.  Clean Up Creek meets twice a month.  If you'd like to volunteer next time, check them out on Facebook!